Classic Comeback: Desire Mad Kit With Brand New Bulldog Mesh Tank
November 4, 2019
Has the Desire Mad Kit ever blown your mind? Now it blows back again, with its brand new Bulldog mesh tank, and the price is very reasonable. You shouldn't miss out on it if you are in search of cheap and pragmatic vape mod kits. Just buy from the vapesourcing online shop if you need it.
Desire Mad Kit consists of the original Mad Mod and the new Bulldog Tank this time. Normally, the mod can fire up to 108W if it is powered by a high-amp 21700 battery, and it supports quite a few working modes, including VW mode, TC mode, TCR mode, and PMG mode. However, a high-amp 18650 battery can also work as the power supply with the included adapter sleeve. When the battery is running low, you can either take it out to charge or just directly charge it up via the micro USB port on the control face. For easy operation and monitoring of the device, there are two adjustment buttons, a 0.96″ OLED Screen, and an intuitive fire button above the USB port.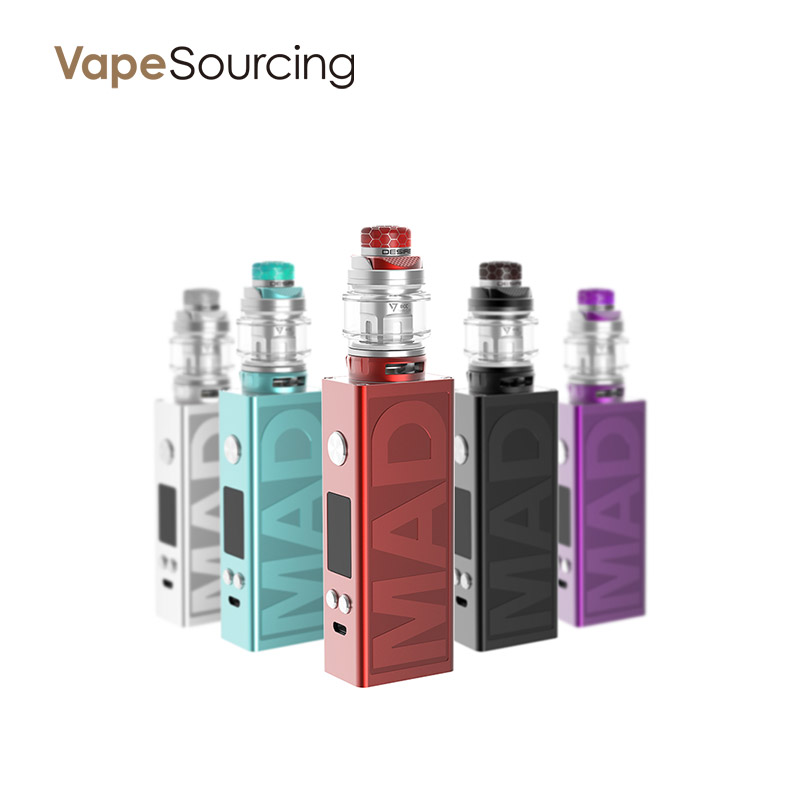 As for the Bulldog Tank, it has a capacity of 4.3ml and can be easily refilled via a slide-open top filling structure. With purchase, you will get a pre-installed 0.18ohm Mesh Coil and a 0.2ohm Triple BCC Coil from the box, which will bring you different vaping experiences. Moreover, there is a precise AFC ring at the base of the tank, with which you can effortlessly adjust the airflow to your preference. All in all, you won't regret getting the Desire Mad whether from its performance or price.
You may also like: drag 2 vape cena
Parameters as below
Mad Mod
Size: 96.2 x 37 x 25mm
Battery: Single High-Amp 21700/18650 battery(Not included)
Working Modes: VW/TC-Ni200/TC-Titanium/TC-SS/TCR/PMG(Power Multiple Graph)
Wattage Output Range: 5-108W
Resistance Range: 0.08ohm-3.0ohm
Output Voltage Range: 0-8V
Output current: 35A
Screen: 0.96″ OLED
Protections: Short-Circuit Protection, Low Voltage Protection, Over-Charging Protection, Over-Vaping Protection, Lom Auto Lock Protection
Bulldog Sub Ohm Tank
Size: 24.5 x 49mm
Capacity: 4.3ml
Coil: 0.18ohm Mesh Coil (50-110W, Best 60-80W), 0.2ohm Triple Coil (80-130W, Best 100-120W)
Related blog: A Must-have For Flavor Chaser | Advken Artha V2 RDA 24mm