SMOK THALLO 80W kit review – durable and visually striking
October 22, 2020
Explore the SMOK THALLO 80W Pod Mod kit, which has an integrated 3000mAh rechargeable battery, 1-80W range, and is compatible with RPM 2 coils. The chassis of the SMOK THALLO Pod Mod Kit is made of high-quality zinc alloy, which is durable and eye-catching.
Features:
IQ-XS Chipset
Dimensions – 123.5mm by 37.7mm by 30mm
Integrated 3000mAh Rechargeable Battery
Wattage Output Range: 1-80W
Voltage Output Range: 0.8-4.0V
Resistance Range: 0.15-2.5ohm
Firing Speed – 0.001s
Zinc-Alloy Chassis Construction
Intuitive Firing Button
0.96″ Color Display Screen
Two Adjustment Buttons
5mL THALLO RPM 2 Pod
Bottom Fill System
Equipped with an integrated 3000mAh rechargeable battery, the power range of THALLO is 1-80W, which can provide sufficient power for any Smok RPM or RPM 2 coil according to the corresponding pod used.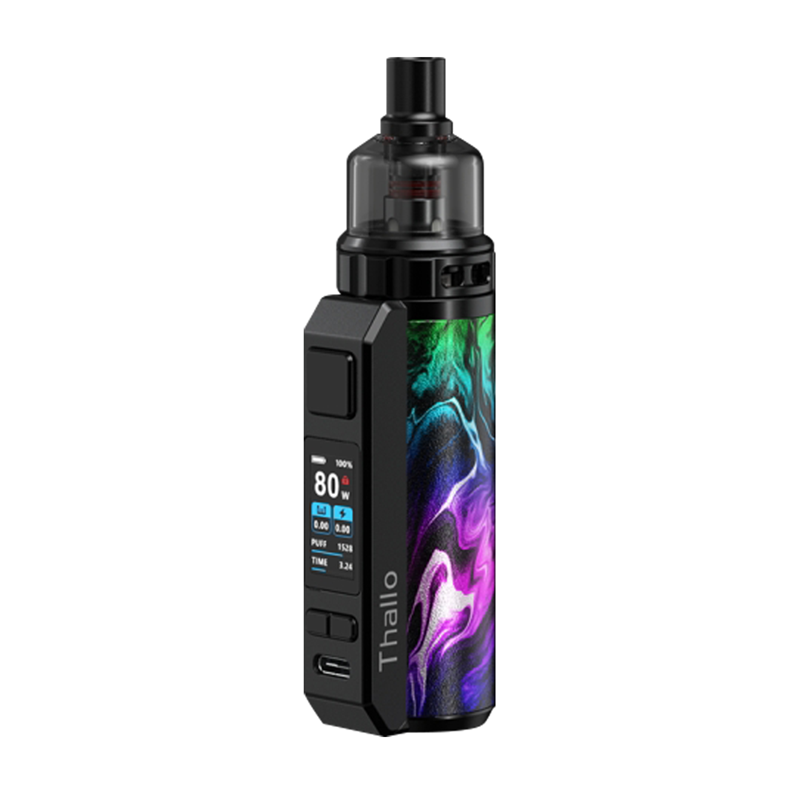 Equipped with a 0.96 inch TFT color display, Smok device can transmit key electronic data to users in a simple and clear way. The integrated battery charging is handled through the USB port on the bottom, while the top 5mL rechargeable case is held in place by a magnetic connection.
Other pods you may like:
gas mods pallas rta for sale
aspire paradox mod for sale